The Table Rock Lake Chamber of Commerce presented four community awards Thursday, November 12, during its virtual Lake Splash event. The annual awards program, livestreamed on Facebook at 3 p.m., honored community members for their service and dedication. A recorded version of the program will be available on the Table Rock Lake Chamber of Commerce Facebook page and this page in the coming days.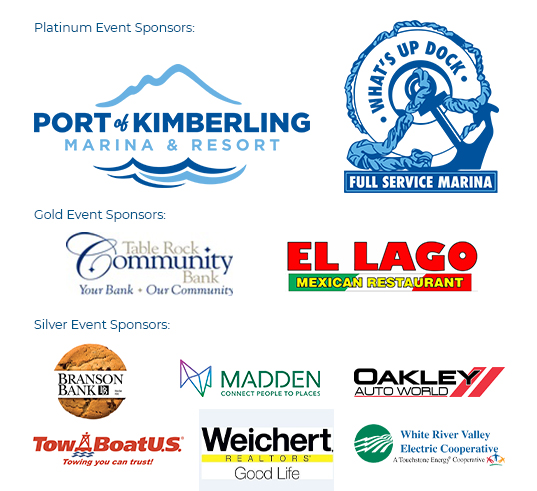 2020 Community Award Recipients
Guardian Award - Presented to Brett Stump
The Guardian Award recognizes a first responder (law enforcement, firefighter, paramedic/EMT or 911 dispatcher) and their fearless and unselfish service in helping keep the community safe. The award was presented to Brett Stump, an area business leader and a Reserve Stone County Deputy Sheriff. When he learned that four County School Resource Officers did not receive funding from the county, Stump took it upon himself to fill a need and provided them with additional equipment to improve the safety of students and patrons. His selfless service, compassion, and kindness have been an inspiration to many.
Trailblazer Award - Presented to Layne Morrill
Long-time Table Rock Lake area businessman Layne Morrill was presented with the Trailblazer Award. This award recognizes an individual who has forged the path for others in the Table Rock Lake area, has demonstrated invaluable leadership either in business or community development in the past (at least 10 years ago), and influenced the community in a positive manner. Morrill has been a national, state and local leader in the real estate business and a long-time contributor to the community; he has a distinguished service record including his career-long political involvement which helped to develop and grow the community.
Business of the Year - Presented to Vino Cellars at the Lake
The honoree for Business of the Year was Vino Cellars, owned by Steph and Matt Bekebrede. The Business of the Year is presented to a business in the Table Rock Lake area that has demonstrated outstanding customer service, a high-quality product or service, and a strong commitment to the community. Covid19 was devastating for many restaurants and attractions at Table Rock Lake, but the Bekebredes pivoted by staying positive with messaging via email and social media campaigns promoting "TV Dinners" and "Pick Up" meals. They also offered delivery service and "virtual" events to demonstrate their customer commitment while keeping their business alive.
Community Service Award - Presented to Pam Burnett
Pam Burnett, Director of the Stone County Health Department, was the recipient of the afternoon's most prestigious honor, the Community Service Award. This award has been given annually by Table Rock Lake Chamber of Commerce for over 40 years to an individual or an organization who, through unusual services and commitment, has improved one or more of the following characteristics of the community: quality of life, economy, educational opportunities, beauty, serenity and safety. During COVID, Burnett participated in County and State Emergency Management Preparedness, and she still continues to guide leaders in the area. Burnett provided advice and direction based upon facts surrounding the disease as presented by the CDC and the State Health Department. She quickly became a leader among the consortium of County Health Departments around the State where logic and patience prevailed. She was willing to engage in and think through individual community issues to ensure best practices but still allow commerce to operate at a high and yet considerate level. Burnett maintained constant communication with county partners which resulted in greater confidence within the county that leaders were doing the right things.