The Chamber receives state tourism funding to pay for specific marketing opportunities, but its use is limited. The Chamber receives some funding from Stone County for tourism, but that amount only defrays the cost of items such as Vacation Guide distribution, market research, and website maintenance. The Chamber has received small grants to help spearhead economic development initiatives in Stone County, but those were for specific projects and don't support expenses for ongoing economic development activities.
The cost to fund these vital areas of work is significantly more than the dollars we receive, and for that reason, we must rely on community partners and fundraisers to supplement marketing and economic development opportunities. Our membership dues revenue is not sufficient to fund destination marketing plus economic development, in addition to all other Chamber programming.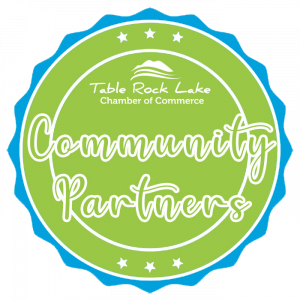 Community Partners contribute above and beyond their annual membership investment because they believe in the mission of the Chamber and want to support the organization in its efforts. Those efforts include taking on the leading role in tourism marketing and economic development in Stone County. Both of these initiatives benefit the health of the local economy, and we appreciate the support of all Community Partners.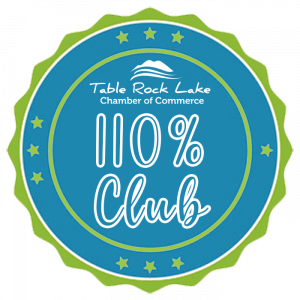 Members who choose to contribute a 10% voluntary donation at the time of membership renewal are highlighted in the Chamber's new 110% Club! These donations will help the Table Rock Lake Chamber of Commerce continue to provide relevant programs and resources to serve the needs of our membership.