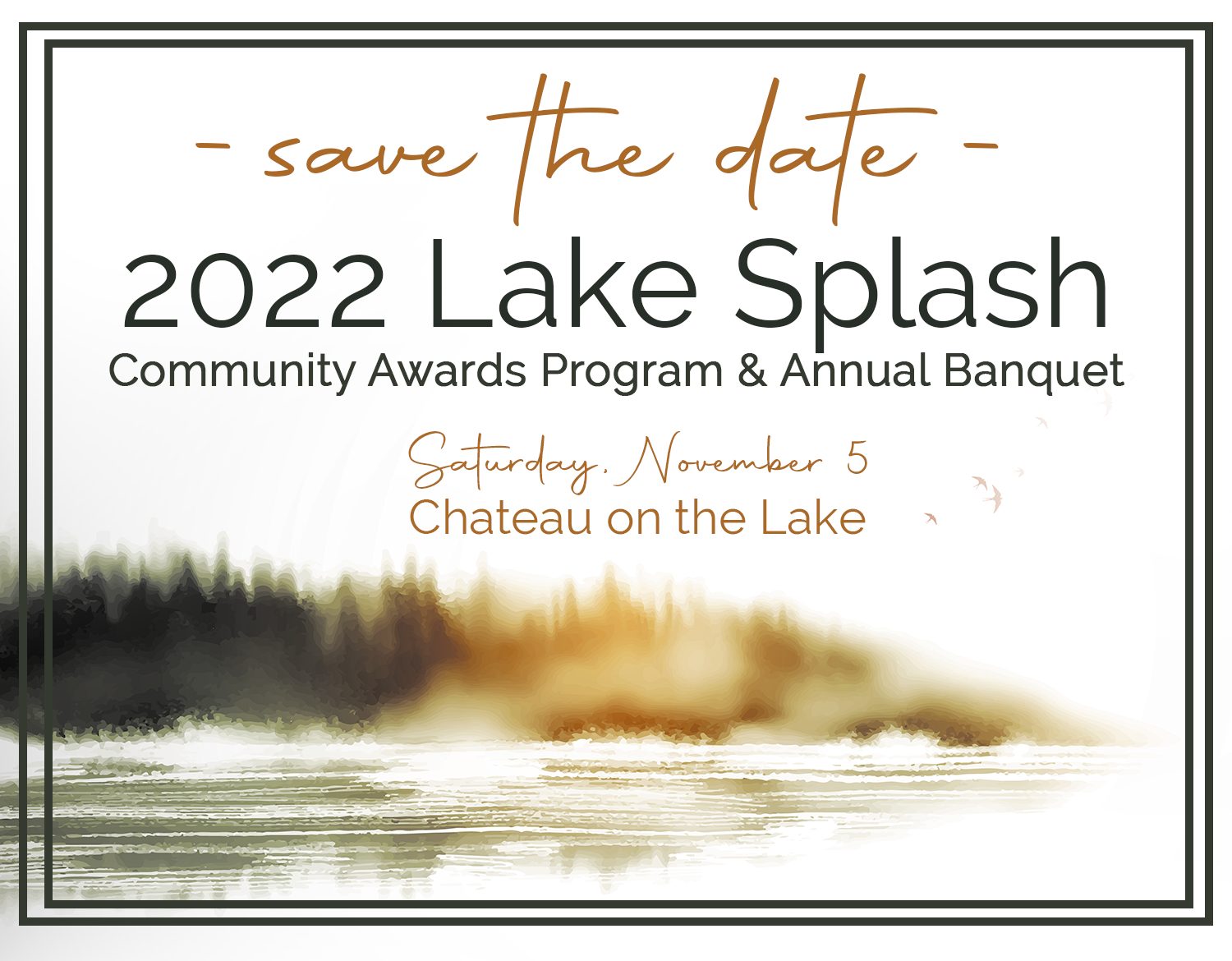 Lake Splash is an annual dinner event with a live and silent auction.  The event culminates with an awards program celebrating the people who make a difference in our area and honoring the past year's business accomplishments. The highlight of the evening is the announcement of Community Service, Trailblazer, Business of the Year and Guardian Awards.
2022 Community Award Nominations Are Now Open
Award nominations will close at 5 p.m., September 15, 2022.
Community Service
The Community Service Award will be presented to an individual or an organization who, through unusual services and commitment, has improved one or more of the following characteristics of the community: quality of life, economy, educational opportunities, beauty, serenity and safety. Any person or organization is eligible to receive the award, except that award cannot be made to a member of the current Board of Directors or an employee of the chamber or an elected or appointed local, state, or governmental official.
Guardian Award
The Guardian Award recognizes a first responder (law enforcement, firefighter, paramedic/EMT or 911 dispatcher) and their fearless and unselfish service in helping keep our community safe.
Trailblazer
The Trailblazer Award recognizes an individual that has forged the path for others in the
Table
Rock
Lake
 area, has demonstrated invaluable leadership either in business or community development in the past (at least 10 years ago), and influenced the community in a positive manner.
Business of the Year
The Business of the Year is presented to a business in the
Table
Rock
Lake
area that has demonstrated outstanding customer service, a high-quality product or service, and a strong commitment to the community.
Past Community Award Recipients
Community Service  
2021       Maureen Darby
2020       Pam Burnett
2019       Boy's & Girl's Club of the Ozarks, Reeds Spring Unit
2018       Terri Tucker-Wiest
2017       Dee & Rick Uebel
2016       David Casaletto
2015       Jim Holt
2014       Gopala Borchelt
2013       Jim Elder
2012       Max & Dee Comeaux
2011       Jack King
2010       Randy Swanson
2009       Dale and Ruth Ann Schavey
2008       Dorothy Greenwald
2007       Skaggs Community Health Center
2006       Layne Morrill
2005       Dr. Debra Williams
2004       Mike Collins
2003       Ozark Lake Country Senior Center
2002       Betty Davis
2001       Bob Simmons
2000       Doad & Marilyn Childs
1999       Ken Ortman
1998       Dr M. Graham Clark
1997       Ralph Swanson
1996       Senator Emery Melton
1995       Jim Stetson
1994       Peggy Emerson
1993       George McNichols
1992       Jerry Jenkins
1991       Larry Price
1990       Earl King
1989       Hamilton Bros Auction
1988       Christian Associates
1988       Table Rock Lake Rotary
1987       None
1986       Richard Meyerkord
1985       W.K. Lewis
1984       Pat Dial
1983       Ray Smith
1982       Ray Smigla
1981       Dr. Avery
1980       Ken Runge
Guardian  
2021       Ryan Clement
2020       Brett Stump
2019       Terry Plumb
2018       Sgt. Shawn Fields
Trailblazer   
2021       Carrie Padilla
2020       Layne Morrill
2019       Ken Bowling
2018       Ralph Swanson
Business of the Year   
2021      Branson Bank Lending Center
2020       Vino Cellars on the Lake
2019       Tanco II Lumber Company
2018       Pizza By The Chef