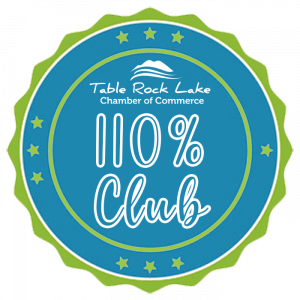 Members who choose to contribute a 10% voluntary donation at the time of membership renewal are highlighted in the Chamber's new 110% Club! These donations will help the Table Rock Lake Chamber of Commerce continue to provide relevant programs and resources to serve the needs of our membership.
Below is a list of our current Club Members.
We truly appreciate their support!
All Seasons Comfort Systems, LLC
Allphin Veterinary Clinic
American Family Insurance-Tracy Carver Agency
American Water Sports
Arvest Bank
Ayres Sign Co.
Baker, Frank
Bar M Resort & Campground
Berman CPA
Beyond The Lens! Entertainment Through Technology!
BFRealty
Billy Gail's
Black Oak Amp
Blankenship, Alan & DeeAnn
Blue Eye School District
Boys & Girls Club Of The Ozarks
Branson Bank
Branson Elite Realty
Branson Regal Accommodations, LLC
Branson Treehouse Adventures
Branson West Marine and Powersports
Branson West Storage
Branson.com
Branson's Nantucket
BTL Property Management
Burrell Behavioral Health - Branson West
Butterfly Palace & Rainforest Adventure
CA Thrift
Campbell Point Marina
Cape Fair Marina
Carroll Electric Coop.
Castaways Pub
Central Bank of Branson
Chalets on Table Rock Lake
Championship Marine Repair
CHANCES of Stone County
Children's Smile Center
City of Branson West
City Of Kimberling City
CK Boat and RV Storage
Classic Creations and More
Clean Jeans Laundry
Club Wyndham Branson at The Meadows
Club Wyndham Mountain Vista
Coachlight Village Mobile Home Park
Coffee Creations
College of the Ozarks
Connell Insurance, Inc.
Cope Marine
Cox Medical Center Branson
Cricket Creek Marina
Dan's Marine Service LLC
DD Resorts Association
Deana Wolfe - ReeceNichols Real Estate
Dogwood Canyon Nature Park
Dooley's Lodges & Resort
Eddie Padilla Painting
Essary Construction Co., Inc.
Excursions
Extreme Outdoors LLC
Faith Community Health
Fillin' Station
Five Star Houseboat Vacations
Flat Creek - Cape Fair, MO
Flat Creek Lodge
Fordland Clinic
Fritz's Adventure
Galena R-II School District
Gibson Technical Center
Golden Corral Buffet & Grill
Great American Title - Branson West
Great Southern Bank
Green Valley Resort
Greystone Properties
Happy Valley Lodge
Harbor House Domestic Violence Center
Harter House
Health Markets Insurance - Nick Morris
Hideaway Marina, LLC
Holiday Inn Club Vacations Ozark Mountain Resort
Husch Blackwell
Ignite Church at Lakewood
Indian Point Marina
Infinity Bodyworks Therapeutic Massage
Jaydie Leigh Dance
Jennifer Busen - ReeceNichols Real Estate
JK Quality Customs, Inc.
Joe Bald Market
Jones, Betty
Karla Pankovits- Table Rock's Best,  REALTORS
Keller-Williams Realty
Ken Bowling Construction
Kimberling Area Library
Kimberling Area Senior Center of Stone County, Mo
Kimberling City Plumbing Inc.
Kimberling City United Methodist Church
Kimberling Vision Center, Inc.
King Food Saver
King, Jack & Diane
Kings River Marina
L & J Plumbing Supply
LAKE30
Lakeland Pharmacy
Lakeland Realty
Lakeside Resort, Restaurant & General Store
Lakeview Campground & RV Park
Ledgestone Country Club at Stonebridge Village
Ledgestone Grille at Stonebridge Village
LifeSong UMC
Madden Media
Ma's Place
MasterCut Tool & Die, Inc.
McDonald's - Branson West
Meeks Building Center/Kimberling City
Mercy Clinic Family Medicine - Branson West
Meridian Title Co.
Midwest Laminating, Inc.
Modern Woodmen of America- Wendy Youngblood
Nature's Wonders
Naught-Naught Agency - Tim Eastin
Neighbors & Friends of Table Rock Lake, Inc.
Northwest Arkansas Democrat Gazette
OACAC  Stone County Neighborhood Center
Oakley Auto World, Inc.
Ollis/Akers/Arney Insurance & Business Advisors
Opie's Landscaping and Maintenance
Optimum
Outdoor Rooms By Design
Ozark Country Cabins
Ozark Hills Winery
Ozark Mountain Legacy
Ozarks Teen Challenge
Paragon Brazilian Jiu Jitsu
Patriot Lawn Care
Peak Electric, LLC
Phoenix Home Care & Hospice
Pier 28 Pizza & Grill
Pizza by the Chef
Premier Boat Sales and Service
Rapid Roberts, Inc.
Retirement Resolutions Group
Rock Lane Resort & Marina
Rogers Legacy Construction
Ryan Lawn & Tree
Scout and Petal LLC
Sea Tow Table Rock Lake
Shady Acre Motel
Shore Acres Resort
Sight & Sound Theatre
Simmering Center, Inc.
Simmons Bank
Sky Harbor Resort
Smythe, Hank
Sonic Drive-in
Southern Bank
Starvin' Marvin's
State Farm Insurance - Maureen Darby
State Park Marina
Still Waters Lakefront Resort
Stone County 100 Club
Stone County Assessor- Matt Daugherty
Stone County Clerk
Stone County Collector
Stone County Developmental Disability Board
Stone County Health Department
Stone County Prosecuting Attorney
Stone County Republican and The Crane Chronicle
Stone County Sheriff's Office
Stonebridge Village POA
Stoneridge Flooring Design
Straightline Elite Canvas
Subway Sandwich Shop - Branson West
Subway Sandwich Shop - Kimberling City
Sunset Nightly Rentals
Sunset Realty Services
Swanson, Mary
Table Rock American Legion #637
Table Rock Art Guild & Gallery
Table Rock Community Bank
Table Rock Fishing Intel
Table Rock Lake Rotary Club
Table Rock Shore Resort
Table Rock Sunset Properties - Kathy & Gary Clark
Table Rock's Best, REALTORS
The Bank of Missouri
The Best of Branson
The Brook Wellness Center
The Harbor Marina
The Track Brochure Distribution LLC
The Track Family Fun Parks
Therapeutic Bodyworks Wellness Center & Spa
Thornhill, Donna
Thousand Hills Golf Course
Thrive Branson West
Top Of The Rock
Top Shelf Boat Lifts
Travelhost Magazine
Treehouse Condos Rental
Tri-Lakes Humane Society
Triple Diamond Real Estate,  Exp Realty, LLC
True Value Rental
Ulrich Marine
UPS Store of Branson West #2677
US Bank
Veterans of the Ozarks
WaterMill Cove Resort
Williams Bros. Ski & Sports
WIN Home Inspection Branson
Woodstone Builders, LLC
Become a 110% Club Member
Our 110% supporters receive special recognition on the Chamber website and The View newsletter.  If you would like to join the club email mcochran@visittablerocklake.com.