Anywhere you stay around the Table Rock Lake area is just a short drive from Branson, home to dozens of world-class live shows.  During the holiday season, many Branson shows transform their productions with your favorite Christmas songs.  Here's a few of our favorite shows to check out this Christmas season.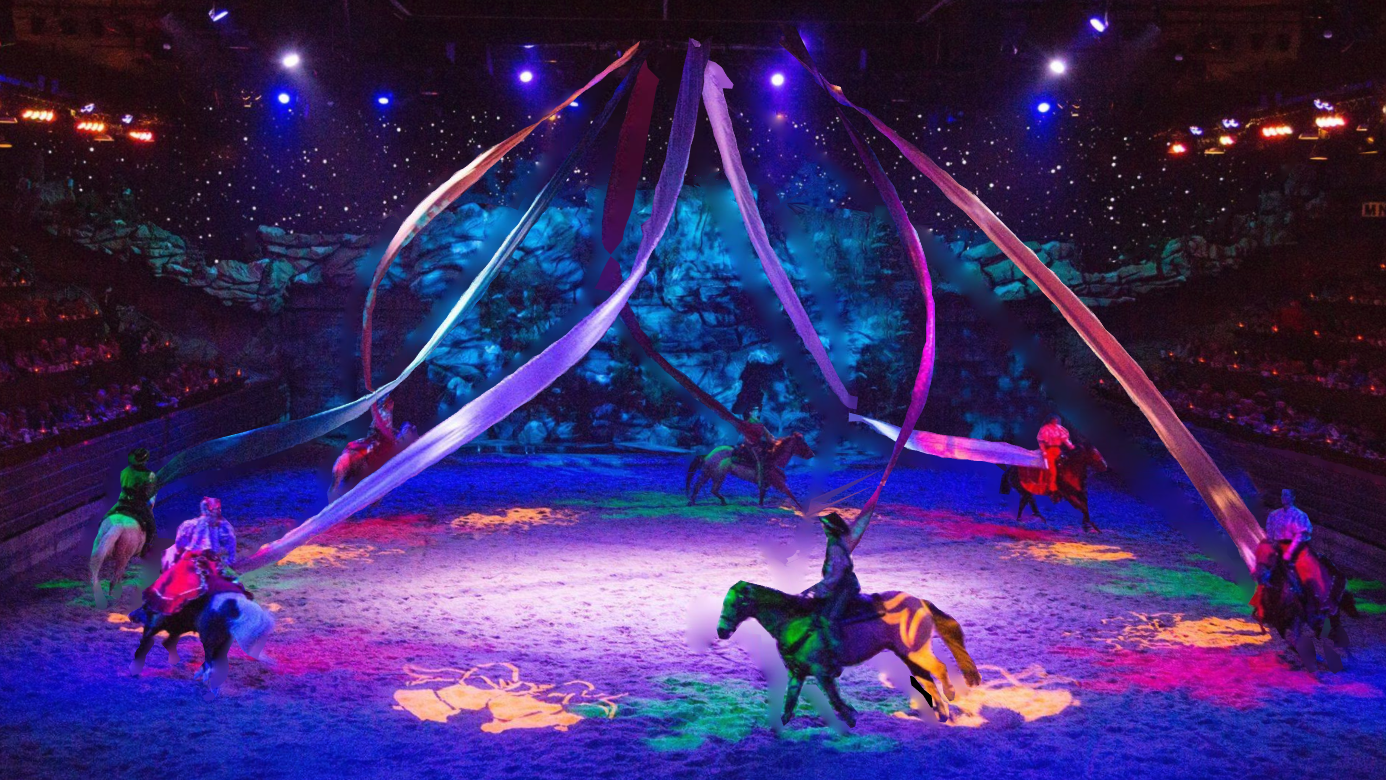 Tap Your Toes and Sing Along
When it comes to popular Branson entertainment, the name says it all … Shoji Tabuchi – The "King of Branson", world-renowned entertainer! Shoji Tabuchi, his beautiful wife Dorothy Tabuchi, and breathtaking daughter Christina Lingo-Tabuchi, present an extraordinary family, variety Christmas show. This family that plays, sings, and dances encompasses all the wholesome values of truly great entertainment, yet the show rivals the pure excitement of Las Vegas or Broadway.
Click here for more information.
It's Christmas at Dolly Parton's Stampede! During the holidays, the Stampede arena is magically transformed into a true fantasy land complete with twinkling lights, evergreens, poinsettias, old-fashioned holiday costumes, and familiar holiday music. But no show is complete without fun and games! The holiday festivities get playful as Elves from the North Pole and the South Pole compete in a friendly rivalry while serving up a four-course holiday feast!
Click here for more information.
Sight and Sound is known for its elaborate theatrics of retelling bible stories and this Christmas they are going to be telling the Miracle of Christmas. But you have to catch a show before its over, they are only running the show from November 1st through December 28th. The show includes an intermission and have plenty of options for snacks in between, such as roasted pecans and popcorn.
Click here for more information!
Shepherd of the Hills offers multiple Christmas shows some including lunch or dinner. They offer Merry Christmas with Dino and Cheryl (Dinner Show), Shad Heller's Original Toby Show, and A Shepherds Christmas Carol which is also a dinner show. All the shows have varying times and dates so be sure to check them out before the holiday season is over.
Click here for more information!
Take in the sights of Table Rock Lake and a great show aboard the Branson Belle Christmas Show.  Dancing, amazing artists, and a freshly prepared 3-course meal are all awaiting you this holiday season.
The Branson Belle also hosts a morning cruise for little kids to wear their Christmas pajamas and eat pancakes together. Before the cruise, you can even visit the captain in his wheelhouse, get to look for sugar plum fairies' sweet spots, and even get your face painted by some of Santa's helpers!
Click here for more information!
Astonishing acrobatics and fabulous figure skating are both big audience pleasers. Branson's newest show, Acrobats on Ice at the White House Theatre, presents the Heilongjiang Ice Acrobatic Team, the first and only of its kind in China. The combination of world-class ice skaters and acrobats into a single production, with colorful lighting, vibrant costumes and beautiful music completes this spectacle of joy and wonder for the Branson 2019 season. This production is a new and exciting variation on traditional acrobatics, as the icy stage requires elements of body and movement control never seen before.
Click here for more information.
Presleys' Country Jubilee:  Back in 1967 the Presleys built the first LIVE music theatre in Branson, Missouri. Today, Presleys' Theatre is a Branson Landmark, and the Presley family is still here entertaining audiences with a one-of-a-kind mix of country, gospel, bluegrass, hilarious comedy, and in November & December... Christmas music!
Click here to learn more
The Little Opry Theatre inside Branson's IMAX Entertainment Complex is filled with shows that will have your toes tapping, why you might even find yourself singing along to your favorite songs.
Click here to learn more.
Silver Dollar City is well known for their many Christmas lights and 8-story tall Christmas tree. But they also have amazing Christmas shows and concerts such as A Dickens' Christmas Carol, It's a Wonderful Life, Frontier Fa-La-La Follies, and Holidays Hearthside Harmonies. These shows are very authentic to the original productions, the actors and artist have put a lot of time effort and practice into these shows. There are shows for every age group to enjoy.
These shows are a great way to spend the holiday with you loved ones. There are varying times for all the shows. All the shows take place within the Silver Dollar City park grounds and they all start November 2nd and end December 30th so catch as many shows as you can this holiday season!
Click here for more information!