Location...Location...Location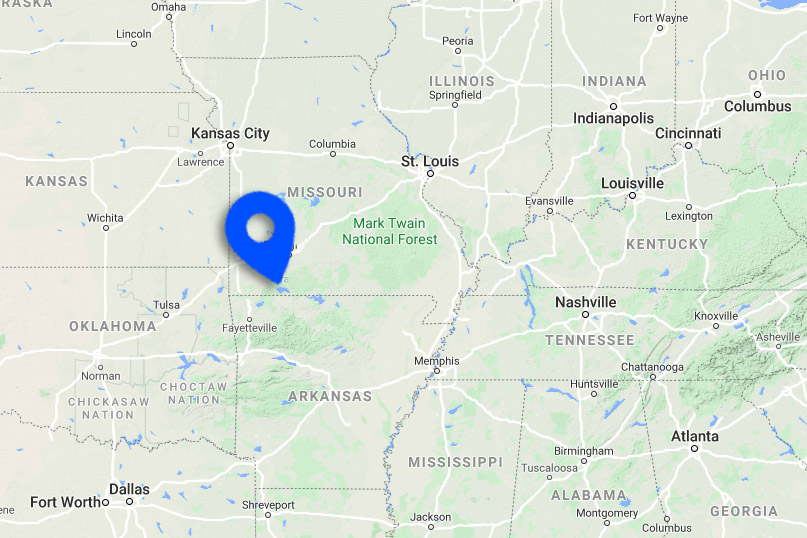 Table Rock Lake is located in southwest Missouri and northwest Arkansas.  The majority of the lake is in Stone County, Missouri; which is a short drive from Branson, Missouri.  With over 800 miles of shoreline (more than California), the "fingers" of Table Rock Lake span several cities, allowing you many different areas to explore. To get a better idea of the areas around the lake we recommend checking out our lake map.
How Table Rock Lake was Created
Table Rock Lake was created by the damming of the White River over 50 years ago.  Table Rock Dam is located in Southwestern Missouri eight miles upstream and Southwest of Branson, Missouri.  Table Rock Lake extends 79 miles upstream along the White River and inundates areas in Missouri and Arkansas.  To the east of the dam, is Lake Taneycomo and Table Rock Lake is on the western side.
You'll find more than 800 miles of shoreline along Table Rock Lake and over 43,000 acres of surface area.  This vast size of Table Rock Lake makes is a great place for watersports, fishing or relaxing.  Table Rock Lake has many "fingers" or "arms" creating coves.  Coves are often where you'll find fishermen dropping a line or boats pulling tubes and skiers.  "Coving out," where several boats will drop anchor and spend the day, is popular during the summer months.  You'll find small numbered signs around the lake marking points to help you navigate.  If you're new to Table Rock Lake we recommend picking your own copy of the official Table Rock Lake Map.  You can find them at the Chamber's Welcome Center or area marinas.
Table Rock Lake is regulated by the Army Corps of Engineers and groups like Ozarks Water Watch help to monitor our water to assure its clean when you visit.
Are you looking for information on public swim areas and boat launches?  Information on which public use areas operated by the U.S. Army Corps of Engineers are operational can be found by clicking here.
Getting to Table Rock Lake
Table Rock Lake is centrally located in the midwestern United States making getting here easy!  We're located within a day's drive to much of the country.  For our visitors that prefer to fly, you'll find easy airline connections through Springfield, Missouri (SGF) or Branson, Missouri (BKG), both airports are under an hour away from Table Rock Lake.
Driving Distances to Table Rock Lake
Atlanta, GA ................ 650 miles
Chicago, IL ................ 570 miles
Dallas, TX .................... 430 miles
Denver, CO ................ 805 miles
Des Moines, IA ......... 395 miles
Indianapolis, IN ...... 439 miles
Kansas City, MO ..... 220 miles
Little Rock, AR ......... 175 miles
Minneapolis, MN .. 640 miles
Nashville, TN ............ 450 miles
Omaha, NE ................ 395 miles
Springfield, MO ......... 35 miles
St. Louis, MO ............. 250 miles
Tulsa, OK ...................... 215 miles
Wichita, KS ................ 300 miles